All our product are available in standard sizes or custom made to your measurement.
Standard Sizes:
Below there is a table of sizes for orders in a standard size. The listed size tables should serve as a reference and can help you determine the correct size of a fitting latex garment.
Measurements shown are body size, non garment size. Please, consider only real body size, our clothes are made to stretch with approximately 5-10% reduction in order to get a fitting effect and may be small if you choose an undersize.
Normal sizes of apparel for ladies are based on the presumption that the average height of a woman is 162 to 168 cm. Normal sizes of apparel for gentlemen are based on the presumption that the average height of a man is 170 to 180 cm.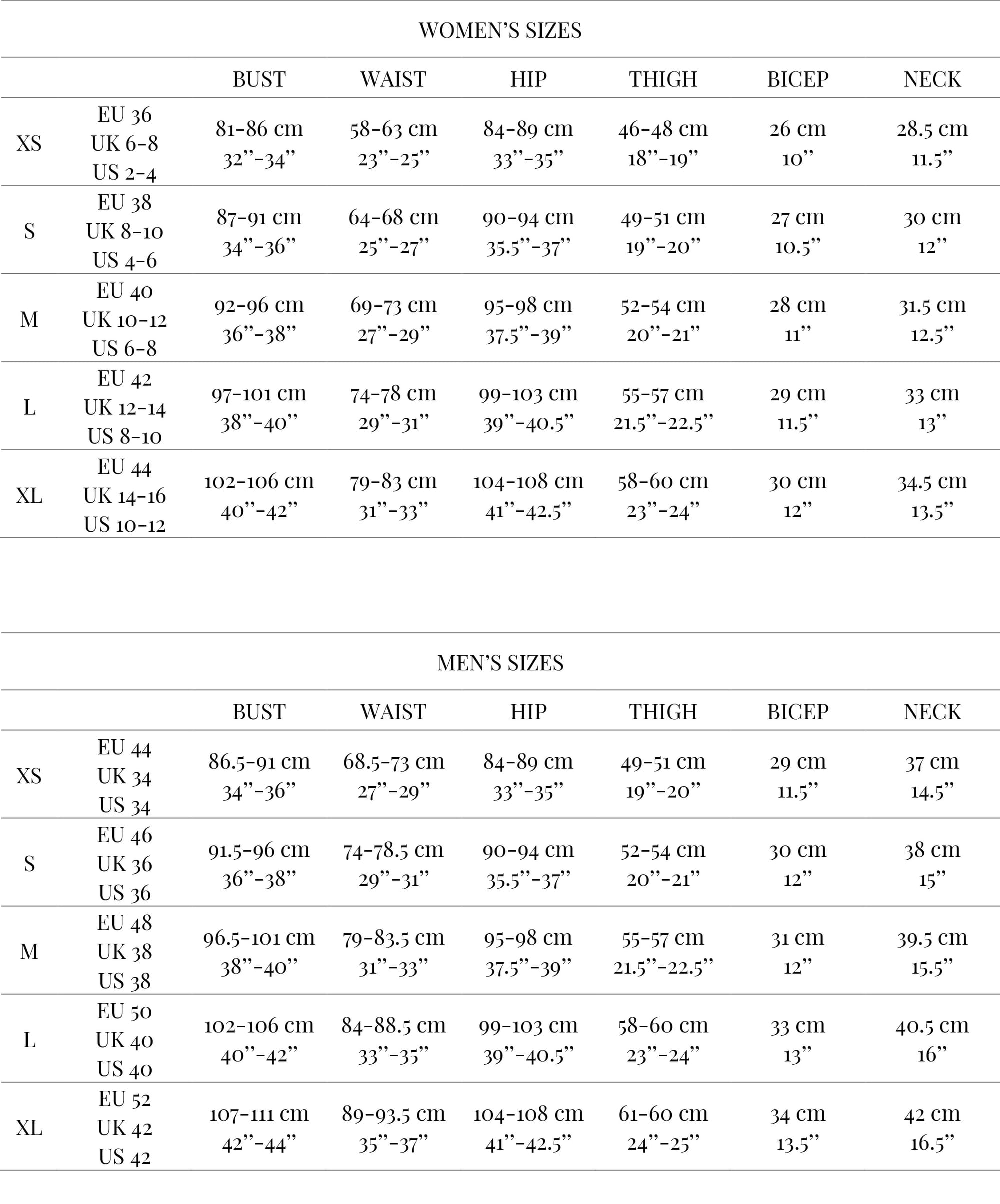 Custom Sizes:
If your measurements do not fall into one size, we would be happy to tailor your latex garments according to individual measurements. Proper manufacture of your custom made latex item requires ample time for adequate tailoring. Please note: an additional charge of 20% is payable for this service. Individual designs and measures are archived for 1 year. In case that you would like to purchase the same item with the same custom made adaptations (a different color, for instance) at a later time, the follow-up purchase takes place without any surcharges.
If you wish to order a custom made item, then please carefully fill in completely the measurements table and send it to us. Here you can download the measurement form as a PDF file: Measurement form..pdf Individual sizes are measured by himself, according to the scheme and filling out the form below. The measuring tape shall not be too tight or too loose, while measurements are taken. Take the measurements at the exact points where they were indicated on the following drawing.
The measurement No. 18 is of particular importance. This is where most mistakes happen. Take this measure by beginning where the neck starts in the front, go down and between your legs (pass the genitalia!) and again to the place where the neck starts in the back.
When filling out the individual measuring table indicate their REAL SIZE, without any deductions or additions. If you would like a petite or tall fit, let us know and we will add or subtract to the pattern as necessary.
We are not responsible for any mistakes you made while taking your own measurements and consequent custom made changes according to any such measurements.
For individual customer sizes please contact us by email to cherrylatex@hotmail.com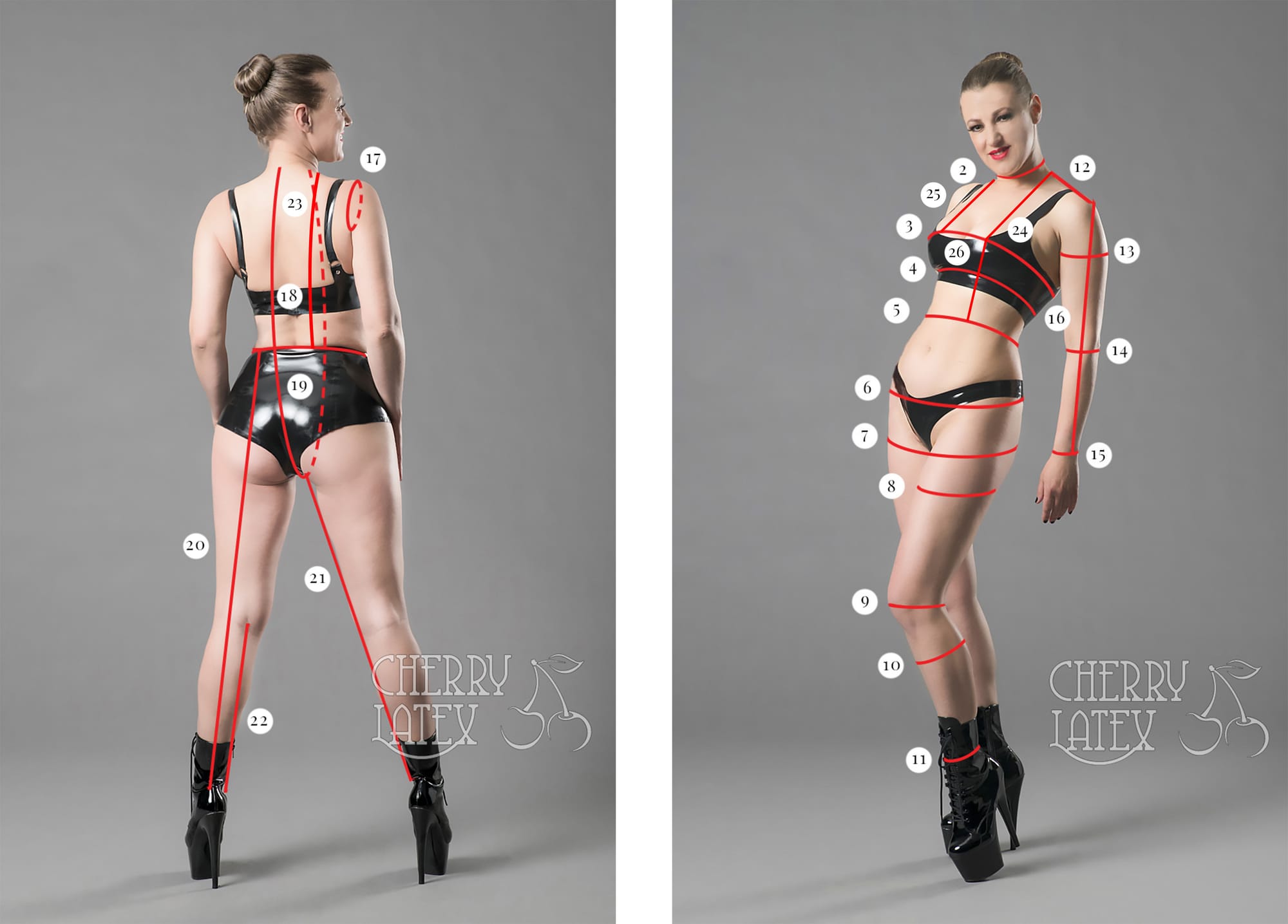 Measurement Form: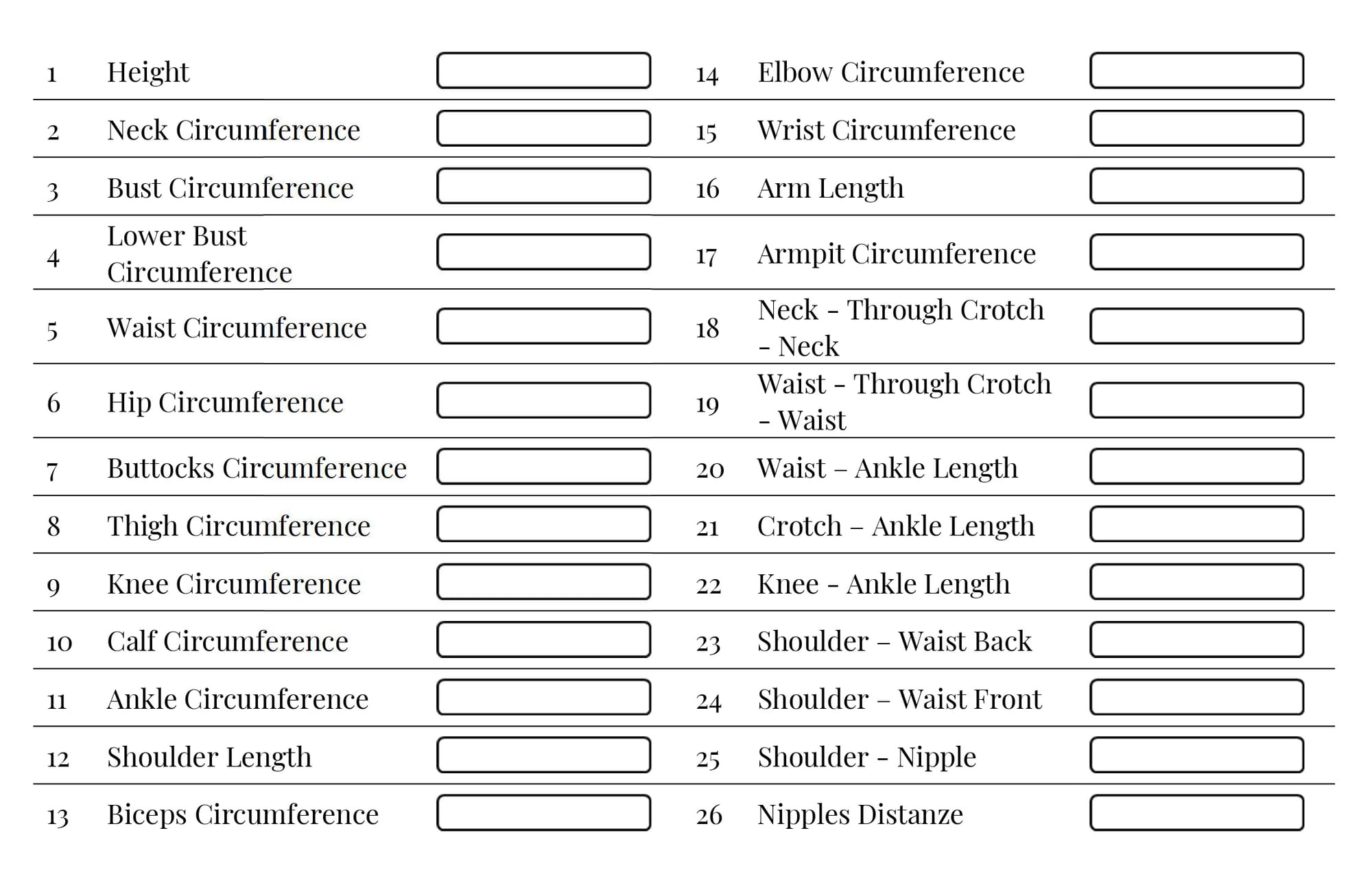 Here you can download the measurement form as a PDF file: